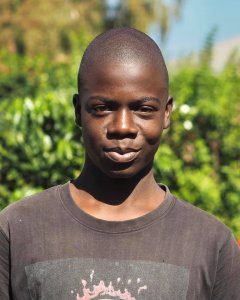 It has been a year since Christopher departed this life. The illness took him away eight days after the doctors made the diagnosis – acute leukemia. His passing away was a great shock for all of us and left a gaping hole in our hearts. But we could not and would not let evil triumph. We knew that we could not overcome evil with despair or sadness, but with active good.
Sister Mariola returned to the oncology ward of the hospital in Lusaka, where Chris had been fighting for his life. We were shocked by Chris's empty bed, but also by the stories of the patients who were still fighting for their lives in the neighbouring ones. Illness in Zambia is very different from illness in Poland – the suffering of children who are battling cancer is intensified by their parents' poverty, who, although they really want to fight for their children, do not have the means to pay for chemotherapy and hospitalisation. Here, you have to pay a considerable amount for each medical procedure. Chronic illnesses entail costs that cannot be covered by the poorest citizens' household budgets, and these are already weakened by the crisis.
We had no doubt that the wave of goodness and love must spread right here, in the oncology ward of the hospital in Lusaka. We created the Chris Sakala Fund. Thanks to you, since Chris's death we have constantly been present in the place where whole families most often experience suffering. We have already helped 116 people by buying food and medication, paying for chemotherapy and supplying patients with wound dressings, clothing and first aid items. Today, Siva is also benefiting from this help. He reminds us a lot of Chris – they are similar in age. Without your help the boy could never start his long-term treatment. Each time the whole cost of his stay in hospital, including travel, is financed by you.
There are situations when the hospital is forced to discharge a patient in a hopeless state and they often have no one to take care of them – they have no place to go. In such cases we pay for a hospice and make sure that they have everything they need. The sisters visit the patient until the end of their days, making sure that not dying, but living until the last moment defines the time remaining. Such was the case with Precious. We picked her up from the hospital in a state that out of respect for the patient we will not show. She spent only one day in the hospice. Surrounded by care and attention, she passed away in dignified conditions – the likes of which she had not experienced before in her entire life. This was possible thanks to your support!!!
"I thank God that Chris brought me here… although he is no longer with us, I know that evil can never be a full stop. It is a comma after which you have to take a breath and get on with doing good" – says Sister Mariola.
We therefore invite you today to continue this revolution of good! Each contribution to Chris's Fund will be the most beautiful light lit in his memory and a real help in a place where illness is trying to take away people's hope.