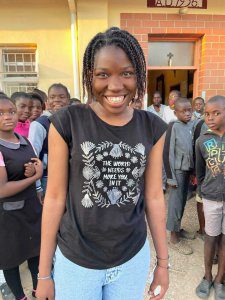 There was an outburst of joy! From the early morning the children had been waiting in front of the entrance to the Home for the arrival of Eva, the beloved nurse from Kasisi, who is soon to become a doctor 🙂 They had not seen each other for ages. Thanks to you, for two years now Eva has been making her biggest dream come true: getting a medical degree in Poland.
Eveline grew up in Kasisi. She came to our Home just after she lost both her parents. She is mature, always excelled in education, wrote diaries and is a keen and prolific reader. She is always cheerful and wears her heart on her sleeve. She graduated with honours from nursing school in Zambia. Today she is entering adulthood. After the summer holidays she will start her 3rd year of medical training.
We are very proud of our child, because despite the many challenges of living during these difficult times in a country with a different culture and climate, she has adapted well to Poland and is sailing through her studies. She passes all her exams on the first attempt; no September resits.
"Every day is a blessing for me. Despite the many rough patches and a completely new study schedule brought about by the current global situation, I am happy because I have managed to maintain my discipline and determination to work hard. At the end of the academic year, I did my internship in emergency and family medicine. I had the best time! I had daily interactions with patients and got to meet new people. I am very grateful to the doctors who wasted no time in explaining and showing us everything. Being in contact with other people, especially those who are suffering, gives me the greatest motivation to work hard. I find that more and more often I am able to genuinely help them." Eva wrote to us.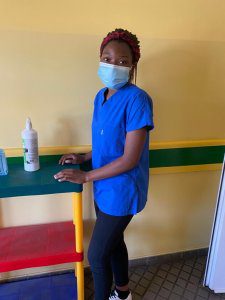 Eva's holiday visit to Kasisi is not only an opportunity for her to get some rest, but also an important meeting for the rest of the household. From a very young age, the children at Kasisi are taught to be independent and to recognize the correlation between their own efforts and the opportunities they receive. Seeing Eva, and earlier James, they begin to understand that the story can change for them too. All it takes is will.
Sister Mariola often explains to them: "Remember, you can no longer use the excuse that you are an orphan, that fate has tested you more. Thanks to the Foundation's support, you now have exactly the same chances as all the other children in the world. But whether you take advantage of them now depends solely on your hard work."
And we thank YOU very much for creating such amazing opportunities for children. That from this point onwards, they themselves, painstakingly, step by step, but already on the light side of the force, can write their own life stories.
Making Eva and James's dream a reality continues unabated. In October they return to medical school, and we have until then to raise the necessary funds to pay for the next semester of their studies. The cost is considerable, as much as 25 thousand per person. But with you, we have already flown to Mars more than once, achieving the seemingly impossible!