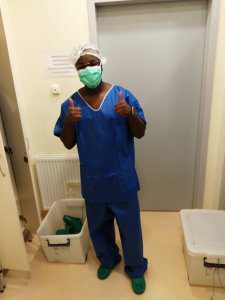 Our students are about to start another semester at university.
Eva and James are on holiday now, but they are not slacking off. While Eva is visiting Kasisi and at the same time preparing for the new semester, James is completing his internship at the department of surgery and paediatrics in Bydgoszcz.
The internship, nonetheless, is a long-awaited break from the long hours in front of computer screens where they were distance learning difficult material for the end-of-year exams. The long hours spent poring over books have paid off. Now we are bursting with pride: they both passed their exams on the first try!
James is about to start his 5th year, but this is really just the beginning of his great adventure in the world of medicine. Thanks to YOU, he will one day become an experienced surgeon. Today, we give our hearts to him, but somewhere in the back of our minds lies the thought that he might, quite literally, save our hearts one day. He already has the makings of an outstanding cardiologist.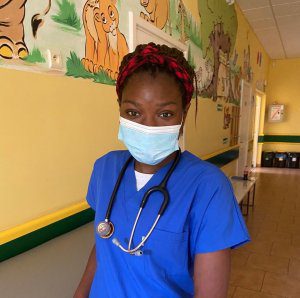 Eva began her studies at the same faculty after several years of practice as a nurse in Kasisi. We watched with emotion as she left the nest, but we were also delighted to see that she had caught the wind in her sails straight away. Her determination can be envied by many. After the holidays she will start her third year of medicine. She dreams of becoming a paediatrician.
Is our children's education an expense? Of course it is. The tuition and books alone are a considerable cost: almost 25 thousand per child. But anyone who has children knows that the older the child, the more money is needed and there is nothing we can do about it.  We do not treat the children of Kasisi as some kind of charity project. For us, each child is like our own. We listen to their needs, we ask them what they want, and when one child comes and says, "I want to go to university,"  what parent doesn't step up to make it possible for the child? It's the child's dream; let them take it on and make it a reality. You want wings? Here you go: take them and fly!
Eva and James are golden children: talented, hardworking and grateful for every little bit of support, because they know that without you they would not get a similar opportunity. This is why we ask you to contribute to the fundraiser for the next semester of their studies. Curriculum – not funding – should be the only thing for our children to worry about. Let's make sure they have a place in the medical world!